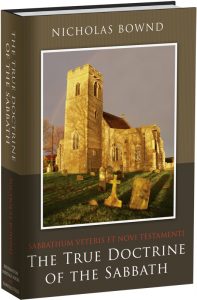 6 copies left on this offer.
Nicholas Bownd, Sabbathum Veteris Et Novi Testamenti:
or, The True Doctrine of the Sabbath (Naphtali Press and
Reformation Heritage Books, April, 2015) 592pp.
Hard bound, smyth sewn, dust jacket. Edited with introduction
and analysis by Chris Coldwell. Retail $30. Price Postage paid $30/$55/$65 (USA/Canada/other Intl). See sale pricing.
See more information here.