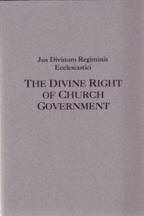 Jus Divinum Regiminis Ecclesiastici, or The Divine Right of Church Government, by sundry Ministers of London (c. 1646).Third title in the 17th Century Presbyterians series. Edited by David W. Hall. Case bound. Introductory matter, 52pp, 282pp. New Edition. Historical Introduction; Subject & Bibliographical Index; $49.95. Paperback Edition, $19.95. This title is out of print.
A Pastoral Work on Church Government. According to many historians this well written and well reasoned work was the Westminster Assembly's defense of Presbyterianism. Part One of Jus Divinum establishes the nature of a divine right, and the different ways things may be accounted as having a divine right according to the Scriptures. Part Two takes up what form of church government is established by Scripture to be of divine right. The book espouses jus divinum Presbyterianism.The Southern Presbyterian Thomas Smyth, called this book, "a work of admirable and overpowering argument." James Bannerman in The Church of Christ says this "work contains an extremely able, thorough, and satisfactory discussion of most of the points relating to the nature of Church government as a Divine institution, and to the power or authority of the Church, its seat and exercise." Church sessions would profit much from studying through this work together.
Extract ReviewPart of the 17TH Century Presbyterians series.17th Century Presbyterians is a series of titles by authors who left an indelible mark upon the history and culture of their age. Heretofore these theological masterpieces have not been issued in new critical editions. Each book in this series is bound uniformly in a distinctive three piece binding, and printed on high quality acid free paper.