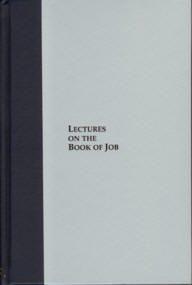 Lectures on Job, by James Durham (1622-1658). This title is back in print in a new edition published with Reformation Heritage Books.
A Rare Puritan Commentary.
James Durham was a Scottish Presbyterian minister, who served the ministry a brief ten or eleven years, yet left behind quite a legacy. His books were very popular in Scotland and new editions of his works were published as late as 1840. No new edition of any of his books was published until 1990 when Naphtali Press printed his Treatise Concerning Scandal. Spurgeon in his Commenting and Commentaries, highly recommended all of Durham's commentaries and sermons. The Lectures on Job are perhaps one of the rarest and hardest to obtain of the many Puritan works of that time. Spurgeon in his day was unable to find a copy, but he said, "It is certain to be good, for Durham is always admirable." Durham comments on every chapter and ends each lecture with a set of uses or applications, which are alone worth the price of the book. This format, as many have told Naphtali Press, makes the book very useful for family devotions.